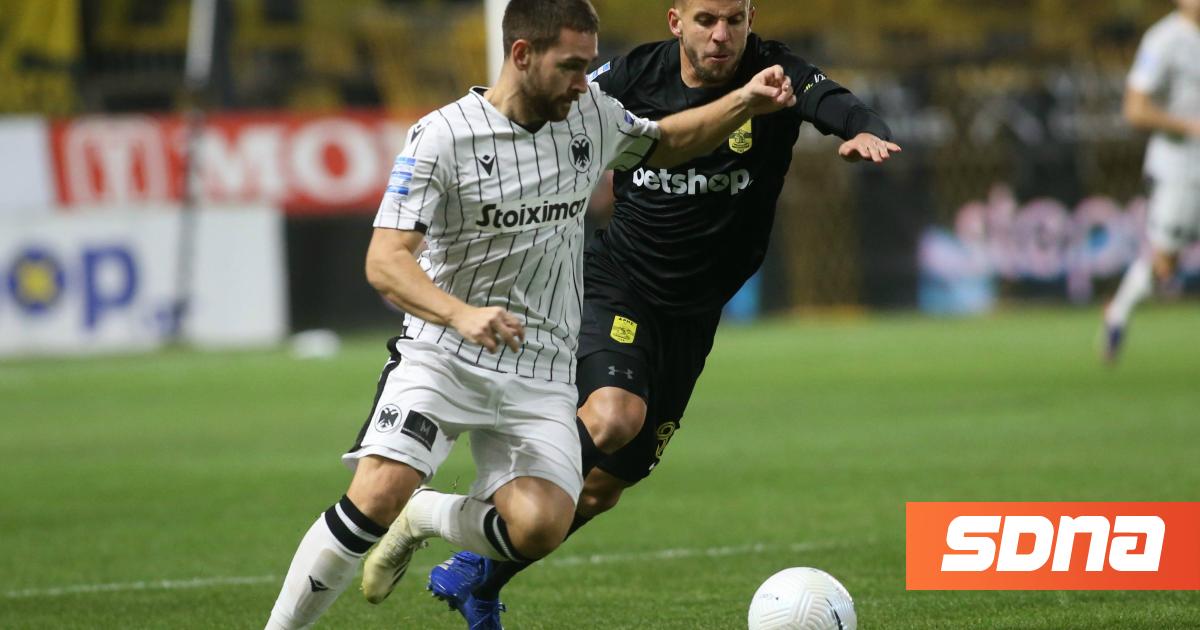 The truth is that I sat down to write after yesterday's Total football, but I was struck by the public attitudes of vice president and TSEO that our friend Notopoulou says and then I saw a little Guy Ritchie. Stavros Kolkas writes.
I will start with something different. Passing on to Musa Uage, a kid who put the team above himself and that forces me to put him very high on my rating list. Whoever puts the club above himself and tries to stand out through the general good, will always be in my heart. And on the contrary, whoever is in the club and works for himself and his next job, will listen to it in stereo. Let's go to the trade issues of the day.
Mark Clattenberg actually showed us what will happen in Charilaou two months ago. His strange assessments in phases of PAOK were aimed and we understood it yesterday. PAOK in an official announcement, neither more nor less, characterized Naihaus, set up.
How can you prove if a referee is set up? In the past, you could hardly do that because the referee could hide behind the mistake of the moment, human weakness, a bad point of view.
In the VAR era, all of the above elements are removed. Technology is what gives you the opportunity to correct a mistake. Naihaus, in the penalty phase he gave to Aris, did not go to correct his mistake. He did not bother to go and see the phase, because simply, apart from what the VAR would say, he had made his decision.
The VAR referee, of course, was someone named Clay Ruperti. A second-class referee in the Netherlands, who was suddenly found part-time in Greece. It was not his first game. He was also in AEK – PAO, while one day before Aris – PAOK took a day off in PAO – PAS. Ruperti will have to say that in the era of the pandemic he made his easiest money.
I will not go into the process of who was to blame. In Aris' penalty, the referee does not even go to the VAR while with what he whistles he bakes the PAOK players that he gave it to see it, in the penalty that PAOK asks he goes to see the overthrow that he gave, while he knows how the overthrow took place a year ago.
And where you understand the intention and PAOK is rather legitimized to characterize its refereeing as set up, is how the game ends in the hand of Bakalianis, without controlling the phase.
In my mind, the refereeing of the Dutch is a continuation of the policy of Clattenberg, who obviously as a teacher knew in which stadium he would do it for us.
It is a traditional home that is willing to do whatever it takes for PAOK to lose. That is, if they tell them, you will not play ball but you will dance break dance for 90 minutes and we will make sure you win, they will do it with joy. They set us up there in 2010, they have sent referees there – Kominis, Voskakis etc. – to leave the cat unchecked for 90 minutes, there is no measure in the way they fight.
Of course, they will never admit that there was no penalty. Theodoros also saw a 3-0 final, although he had two finals at home plus the penalty. Accustomed to last year 100% accuracy seems to me.
The tragedy with them, of course, is that on days like this, instead of doing the trick, they go out on top. They did not give red to Augustus they say. Not all foul cards are children. And it does not mean that because your players pretend to be squirting, that the opposing player must be sent off. Belanuan gave twelve kicks and five elbows to Sfinderski and got a card for pushing Giannoulis.
The downside for a professional footballer is to be Matija or Manos. Poor Zifkovic could not realize what he was going through and in the end he was chasing the Spaniard. And there are people who are happy that such guys are fighting in their team.
In football we are talking about a bad game. Aris behind the ball to play nothing and get the gift, PAOK trapped in the absence of Kantouri, in the bad day of Giannoulis and in the inability of Pablo to bring quality and solutions from the bench since he did not have. The game was for a draw, if not for a complaint to UEFA for abuse of the sport.
And because I referred to a complaint, we saw a public debate between Karapapa and Gagatsi. Because things are serious, since one openly says that an attempt was made to set up Aris players by PAOK and the second implies the involvement of the vice-president of Olympiacos in the renting of the famous white polo, it is time for the prosecutor to intervene.
PAOK will obviously proceed with lawsuits and lawsuits against the vice-president of Olympiacos, who overcame himself by making a complaint on behalf of another team. With Giorgaros Delizisis just leaving some hints that something might have happened.
Since Thursday, I have heard some rumors, which were spread by the friends of Areos. Then, on Friday, two websites of Areos, Gavros.gr and 10.gr, raised issues implying what Karapapas complains. Excellent synchronization of communication partners.
Some implied other players, others. A total of five Mars players were tried to be caught, according to what they said. And as Greek classics, as time went on, the issue opened up. According to the mythologists of eastern Thessaloniki, people were arrested – specific names were even written in forums – others went to testify, we are talking about invincible stupidity.
Even more mythical, is that after what Karapapas said, they were not bothered that an executive of another team without getting the approval of their club made this move, but they played the role of Holy Virgin – there will be one I guess – that they are arguing the buffaloes and the frogs pay for it. The truth, of course, is that when a frog flirts with one buffalo, it will either get bored of it and throw it over it or another will be found to trample it. Everyone determines their destiny through their actions. The magnitude of their hypocrisy exceeds any limit of tolerance.
From my experience alone, to close the issue of the complaint, I say that the issue was raised and that its targeting is clear. PAOK and Savvidis should be tarnished until they give up and leave. It is a continuation of the naughty flight from Toumba and the lawsuits that followed to steal a championship from us, the issue of multi-ownership and other smaller ones in intensity and size.
So it is time for no prosecutor to get a job, for all those involved to go and convince of what they are saying. Not to convince those accused of their innocence. To convince those who complain that they are telling the truth.
And I'm really glad that the head of the prosecutor's office acted so immediately. Just turn on all the phones and we're done.