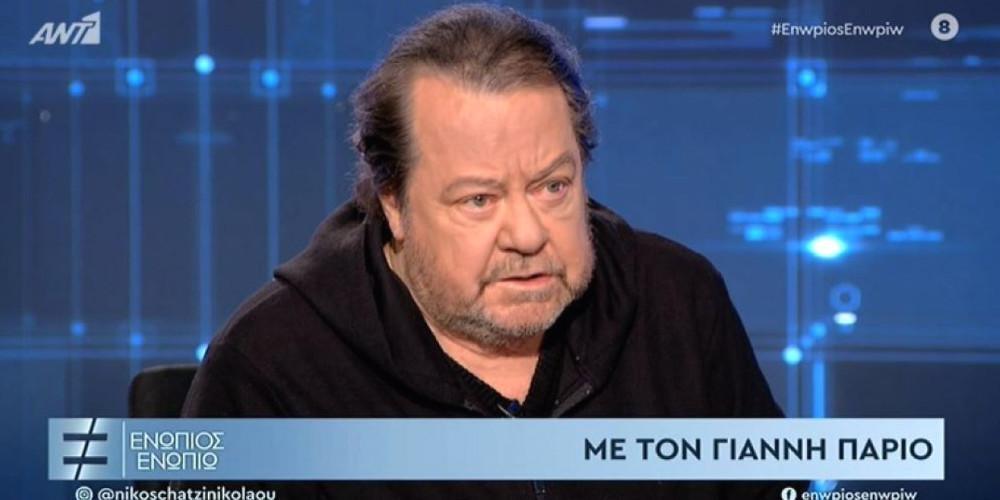 Newsroom eleftherostypos.gr
The leading singer of Greece, Giannis Parios, gave a rare interview to Nikos Hatzinikolaou, on Monday night, on the show "Enopios Enopio". Confessor in all his answers to the journalist, he talked about everything.
He first referred to the surname Parios, as his real name is Varthakouris. "There were many godfathers of the name. "And Makis Matsas and I and George the Katsaros", he stated, emphasizing that "Parianos" had also fallen on the table.
Haris Varthakouris spoke about his father, with the troubadour of love continuing with a very moving story with his son. "We were in Paros and Harry was writing all night in the house next door. We were supposed to be crumpled up then. And he comes and sits at my piano and plays a melody and I went crazy. I listen to him and tell him: "nice melody" and he turns and says to me: "write no lyrics"… This song is one of his latest hits, it is "My life is full of dark nights" ".
The discussion also came to his little son Nikolas Varthakouris. "It was a surprise. Of course for me and Harry it was not. I remember he was 8 years old, Harry was sitting at the piano in Paros and playing a melody. He was the little one upstairs and he looks and says get up and let me play this. He sits, Harry looks at me and says "Daddy what are we going to do with him here". I will never forget that. He knows that I do not agree with his style of music but I do not disagree with the new generation. "Sofia Aliberti is the most valuable person for both of them", he said characteristically.
See all the latest News from Greece and the World, at any time at EleftherosTypos.gr