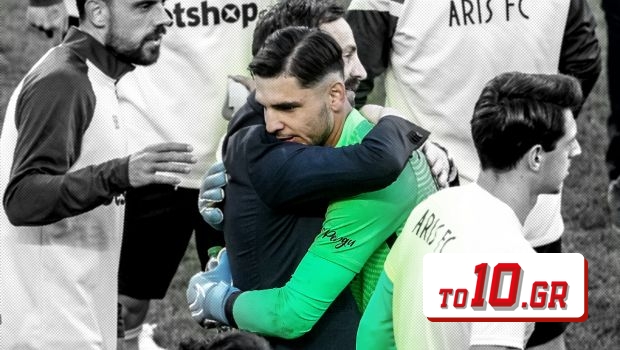 The nonsense, vulgarity and deeply illegal act of PAOK FC to publish personal and sensitive data of Marios Ciambanis, such as ADT, AFM, and even the management of his personal residence, caused the anger and indignation of the international goalkeeper and protagonist in the unprecedented complaint for an attempt to bribe him by a specific person, known in the environment of Dikefalos.
Ciambanis, with his personal post on social media, makes PAOK FC responsible and those responsible for the publication of the documents "for what happens to me and my family". In fact, he is not only against PAOK for his unacceptable, illegal action, but also against the EPO, which he "shows" as the one responsible for the leak of his contracts to the people of Dikefalos.
The young goalkeeper claims that this act, of both PAOK and the EPO, was done with the aim of terrorizing him, "to get the message", as he characteristically states, before noting that he does not bend and that his lawyer has already all legal actions, in order to pay the price for those who committed this heinous and extremely dangerous act for him and his family.
The statement of Marios Ciambanis for the announcement of PAOK and the publication of his personal data in detail:
"Do you understand that there are limits? Do you understand that my family and I are not a toy to use us so cheaply and cowardly? Is it my fault that I did not get the money? Is it my fault that I complained about it? Speak clearly. Is it possible for my Federation, instead of protecting me, to give my contracts to flyers and for anyone to have access to my address? If you asked me how much I get and how much I got in the teams I was in, I would tell you myself, I would also send you the contracts WITH COVERED MY DETAILS. But you were not interested in that. Your goal was to get my personal information out. Your goal is to get the message across. So I took it and I answer you: I WILL NOT BEND. Football should be a joy, not a mess and I still dream of it. And I will fight for it. My lawyer is already doing what she needs to do. I MAKE YOU PERSONALLY RESPONSIBLE FOR WHAT HAPPENS TO ME AND MY FAMILY ".
Never in the history of Greek football has PAE given players so raw and overtly north. Because what PAOK FC did was an informal "declaration" by Ciambanis. With all of Greece learning where he lives, his wife and their child. What is his ID number, his TIN. The embarrassing announcement for the history of PAOK, puts in danger a player who just did what he thought was right. And mainly it shows what the current management of PAOK really stands for. How does it work. And especially how she tries to set her own terms.
A brutal blackmail, which the state must not return.
Follow at
Google News
and be the first to know all the sports news