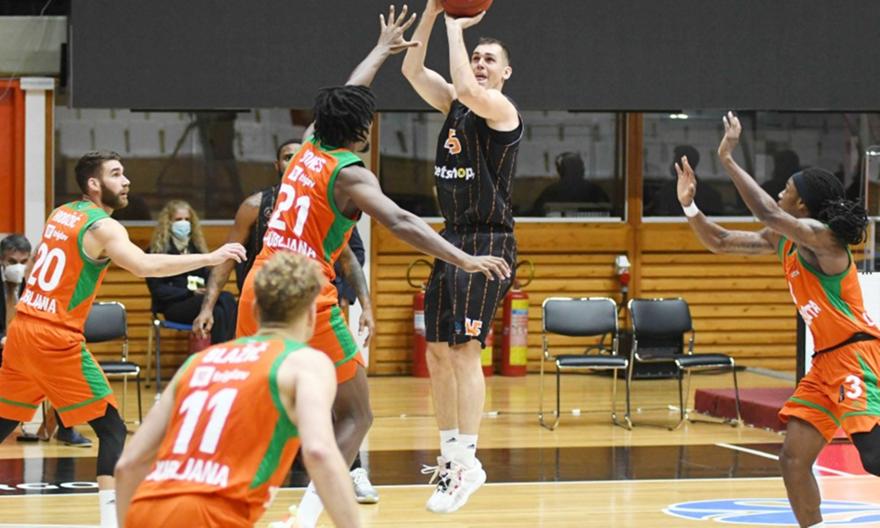 An out of place and time Prometheus was dragged from Cedevita-Olympia 69-105 to "Dimitris Tofalos" for the ninth game of the Euro Cup and reached spot 2-7 his record in the fourth group, while the team of Jurica Golemac reached 7- 2.
The guests reached +11 at the end of the half, but with a series of 17-0 on Tuesday they went to +15 and +30, making the continuation of the match "mountain" for the team of Makis Giatras.
For the winners, Blazic stood out with 18, Perry with 15, Muric and Hopkins with 14 points. For Patras, Tanoulis was saved with 12 and Mantzoukas with 10 points.
Prometheus came in "warmer" and was 5-2 ahead of the Croatians with Agravanis. Cedevita started to play properly in the home basket and with Perry and Hopkins they made a series of 10-0 and reached 5-10. Blazic brought the score to 7-13 in the poor zone defense of Makis Giatras, but Miller reduced it to 16-17. Perry and Hopkins continued their "violin" and a series of 6-0 for 16-25. At 18-27, a 5-0 series of Patras brought 23-27 to the end of the first ten minutes.
Cedevita started with a series of 8-0 in the second period and reached +12 starring its domestic players. Prometheus responded with a series of 5-0 and reduced to -7, but Jones helped in a series of 4-0 for +11. With a new 4-0 run by Perry, Cedevita reached 29-43 and with a new 4-0 at +15. The young Kouroupakis with a 4-0 series brought 36-47 at the end of the half, with Patras having 8/16 two points.
Makis Giatras threw his young players on the floor of "Dimitris Tofalos" and they scored steadily and reduced to -9. However, at 44-52, Cedevita made an incredible 17-0 run, reaching 44-69 and formally ending the match, starring Blazic, Horic and Muric. At 51-71, Cedevita made a new 10-0 run and reached +30, with Jurica Golemac having thrown his substitutes on the floor. Thus, the thirty minutes ended at 53-84.
At the beginning of the fourth period, Cedevita with a series of 5-0 brought +37 and kept the difference close to +35 with the substitutes of both teams starring on the floor. Mantzoukas and Tanoulis starred for Patras, with the score "stuck" for two minutes at 62-94 until Skouka made it 62-97. Radovic brought 64-100 for the guests and 69-105 completed the "martyrdom" of Patras.
THE TEN MINUTES: 23-25, 36-47, 53-84, 69-105
PROMETHEUS (Doctor): Agbelese 4 (2/5 two points, 3 errors), Lountzis 5 (1 three points, 2 assists, 3 errors), Agravanis 5 (1/4 three points), Garrett 3 (1), Christodoulou 3 (1/4 shot), Vassiliou 8 (2/2 three points), Kouroupakis 4 (2/5 two points), Miller 7 (1), Radicevic 2 (5 assists), Mantzoukas 10 (2/5 two points, 2/7 three points, 6 rebounds), Bazinas 6 ( 4 assists, 5 errors), Tanoulis 12 (3/3 two points, 2/4 three points)
CEDEVITA (Golemac): Radovic 3 (1/6 shots, 6 rebounds, 4 assists), Perry 15 (5/5 two points, 1/2 three points, 2/3 shots), Hopkins 14 (6/6 two points, 8 rebounds, 3 steals), Dustsak 1, Muric 14 (4/6 two points, 2/3 three points), Blazic 18 (6/8 two points, 2/4 three points, 5 rebounds, 5 assists, 2 steals), Hodzic 10 (2), Jones 3 (1 / 8 shots), Skuka 5, Dimetz 9 (4/7 two points, 6 rebounds), Marinkovic 5 (2/6 two points), Rupniks 8 (2 three points, 7 assists)
ON DEMAND: All reports on the official SPOR FM channel on youtube