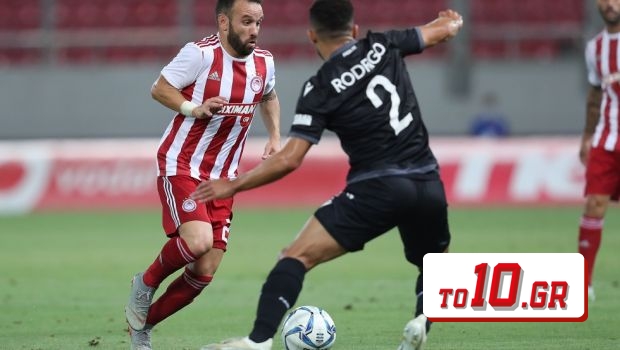 The program from the 16th to the 26th game of the Superleague was announced on Tuesday afternoon by the organizing Authority. According to the program, Olympiacos and PAOK will play twice in 15 days!
On 13/1 PAOK-Olympiacos will take place in Toumba, for the 6th match, which was postponed due to the participation of both teams in European competitions and on 27/1 Olympiakos-PAOK will be held in "G. Karaiskakis ", for the 19th game of the championship. Both races will start at 19:30.
Regarding the Panathinaikos – Olympiakos derby, it was set for February 14 (19:30).
Detailed program from the 16th to the 26th game:
16TH COMPETITION SCHEDULE
Saturday 9/1
Panaitolikos – Olympiakos 19.30
Sunday 10/1
PAOK – Volos 15.00
Apollon – Asteras 17.15
Atromitos – OFI 17.15
Panathinaikos – AEL 19.30
Monday 11/1
PAS Giannina – Aris 17.15
Lamia – AEK 19.30
17TH COMPETITION SCHEDULE
Saturday 16/1
Asteras – Panaitolikos 17.15
AEL – Apollon 19.30
Sunday 17/1
Olympiacos – PAS Giannina 15.00
Volos – Lamia 17.15
OFI – PAOK 17.15
Aris – Panathinaikos 19.30
Monday 18/1
AEK – Atromitos 19.30
18TH COMPETITION SCHEDULE
Saturday 23/1
Asteras – AEL 15.00
Apollo – Mars 17.15
Panathinaikos – OFI 19.30
Sunday 24/1
Atromitos – Olympiakos 15.00
Panaitolikos – Lamia 17.15
PAS Giannina – Volos 17.15
PAOK – AEK 19.30
19TH COMPETITION SCHEDULE
Tuesday 26/1
OFI – Asteras 17.15
Aris – AEL 19.30
Wednesday 27/1
Volos – Panathinaikos 15.00
AEK – PAS Giannina 17.15
Lamia – Apollo 17.15
Olympiacos – PAOK 19.30
Thursday 28/1
Panaitolikos – Atromitos 17.15
20TH COMPETITION SCHEDULE
Saturday 30/1
AEL – Volos 15.00
Asteras – Aris 17.15
Panathinaikos – Lamia 19.30
Sunday 31/1
OFI – AEK 15.00
PAOK – Panaitolikos 17.15
PAS Giannina – Atromitos 17.15
Apollon – Olympiakos 19.30
21ST COMPETITION SCHEDULE
Saturday 6/2
PAS Giannina – AEL 17.15
Atromitos – Panathinaikos 19.30
Sunday 7/2
PAOK – Apollon 15.00
Volos – Asteras 17.15
Olympiacos – OFI 17.15
AEK – Aris 19.30
Monday 8/2
Panaitolikos – PAS Giannina 19.30
22nd GAME PROGRAM
Saturday 13/2
Asteras – Lamia 17.15
Apollon – Atromitos 19.30
Sunday 14/2
Aris – Panaitolikos 15.00
AEL – AEK 17.15
OFI – Volos 17.15
Panathinaikos – Olympiakos 19.30
Monday 15/2
PAS Giannina – PAOK
23rd COMPETITION SCHEDULE
Saturday 20/2
Atromitos – AEL 17.15
AEK – Asteras 19.30
Sunday 21/2
PAOK – Lamia 15.00
Volos – Apollon 17.15
PAS Giannina – OFI 17.15
Olympiacos – Aris 19.30
Monday 22/2
Panaitolikos – Panathinaikos 19.30
24TH COMPETITION SCHEDULE
Saturday 27/2
Apollon – OFI 17.15
Asteras – PAOK 19.30
Sunday 28/2
Mars – Fearless 15.00
AEL – Panaitolikos 17.15
Lamia – PAS Giannina 17.15
Monday 1/3
Volos – Olympiakos 19.30
25TH COMPETITION SCHEDULE
Saturday 6/3
OFI – AEL 15.00
Atromitos – Asteras 17.15
PAS Giannina – Panathinaikos 19.30
Sunday 7/3
Olympiacos – Lamia 15.00
Panaitolikos – Volos 17.15
PAOK – Aris 19.30
Monday 8/3
AEK – Apollon 19.30
26TH COMPETITION SCHEDULE
Sunday 14/3
AEL – Olympiacos 19.00
Apollon – Panaitolikos 19.00
Aris – OFI 19.00
Asteras – PAS Giannina 19.00
Volos – AEK 19.00
Panathinaikos – PAOK 19.00
Lamia – Atromitos 19.00
Schedule of the 8th postponed race
Wednesday 23/12
AEL – Lamia 17.15
Thursday 14/1
Aris – AEK 19.30
Schedule of the 6th postponed match
Wednesday 13/1
PAOK – Olympiacos 19.30
Wednesday 20/1
Apollon – Lamia 17.15
Follow at
Google News
and be the first to know all the sports news