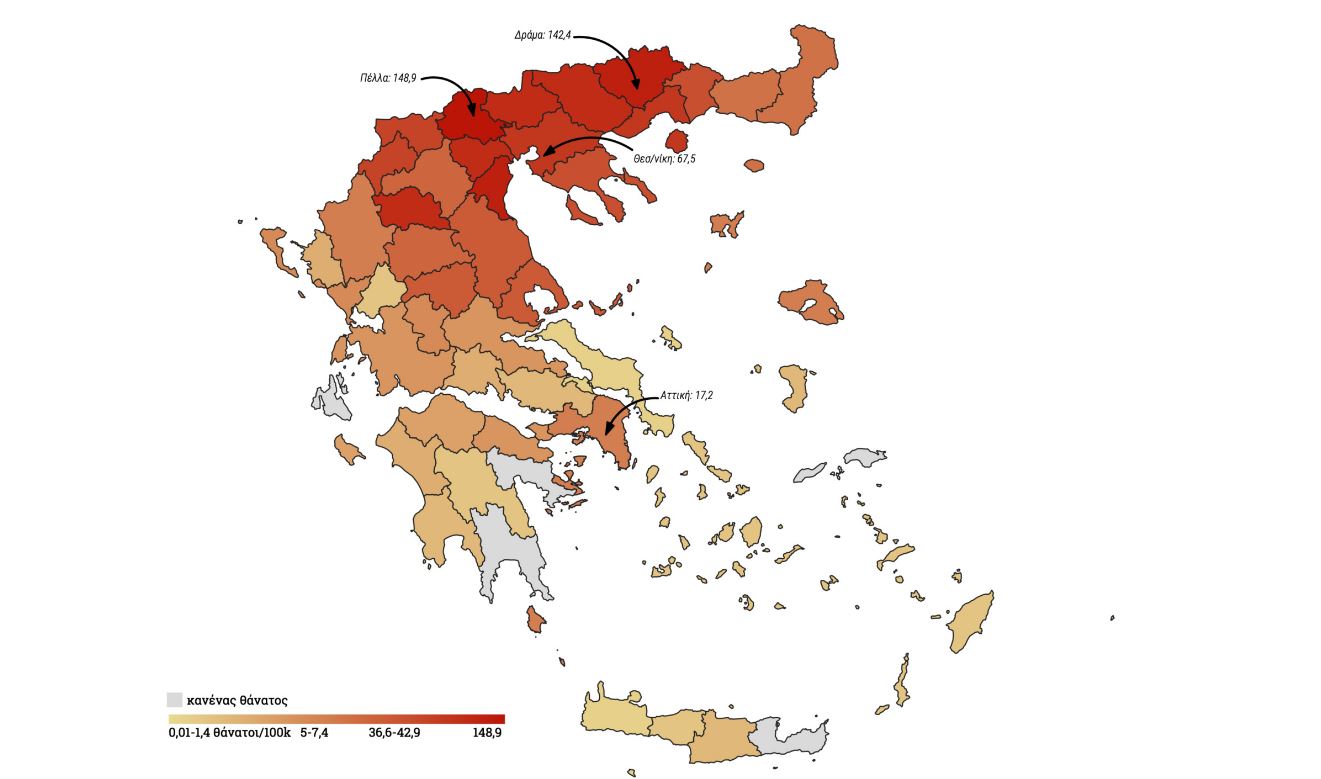 We have spent 10 months influencing the new coronavirus pandemic in our country. All this time the daily record of cases and deaths weighs on our souls much more than the numbers with those who exceed COVID-19. After all, nothing enters the "yoke" in the face of death.
What are the total deaths from COVID-19 in Greece? In which geographical areas are most recorded? The iMedD Lab of the Stavros Niarchos Foundation provides answers to these questions with unique tables and maps.
IMEdD is a non-profit company founded in 2018 with an exclusive donation from the Stavros Niarchos Foundation. Its mission is to promote and enhance transparency, validity and independence in journalism with a core concern of meritocracy and excellence.
COVID-19: Cases and deaths in Greece
The dark colored line records the rolling average of the last 7 days, which is used to normalize prices.
The iMEdD Lab, from the beginning of the pandemic until mid-November, systematically updated the data on losses per Regional Unit, using press releases as its main source.
See HERE the open access to all relevant application.
Northern Greece mourns most of the dead
The analysis of the data shows that the areas with the most deaths are:
Thessaloniki (750)
Attica (659)
Pella (208)
Serres (184)
Pieria (148)
Imathia (138)
the Drama (140) and
Larissa (122)
However, the reduction in deaths per 100,000 population (a calculation that allows us to compare areas with each other) shows that the areas most affected by the pandemic are:
Pella (148.9 deaths per 100,000 population)
Drama (142.4)
Pieria (116.8) and
Serres (104.3)
Thessaloniki has 67.5 dead per 100,000 population and Attica 17.2
COVID-19: The map with the geographical distribution of pandemic deaths
In the map below you can see, in addition to deaths per 100,000 population, mortality (deaths per confirmed case).
Our mortality rate shows how many of those who have been diagnosed positive for coronavirus have lost their lives. Although mortality is a very important indicator, we should read it very carefully. This is because the number of people diagnosed with COVID-19 does not correspond to the actual population that has contracted the virus. This is because, on the one hand, the whole population is not tested and, on the other hand, because those who are tested are usually people who have already had some symptoms. For these reasons, the mortality rate may be overpriced compared to the actual risk of death from COVID-19.
Source: https://lab.imedd.org
READ ALSO
Coronavirus: If the cough has these three characteristics, then it is probably NOT COVID-19
COVID-19 masks: Do this to kill 99.9% of germs in minutes